Q + A with the mother / daughter duo behind KLAY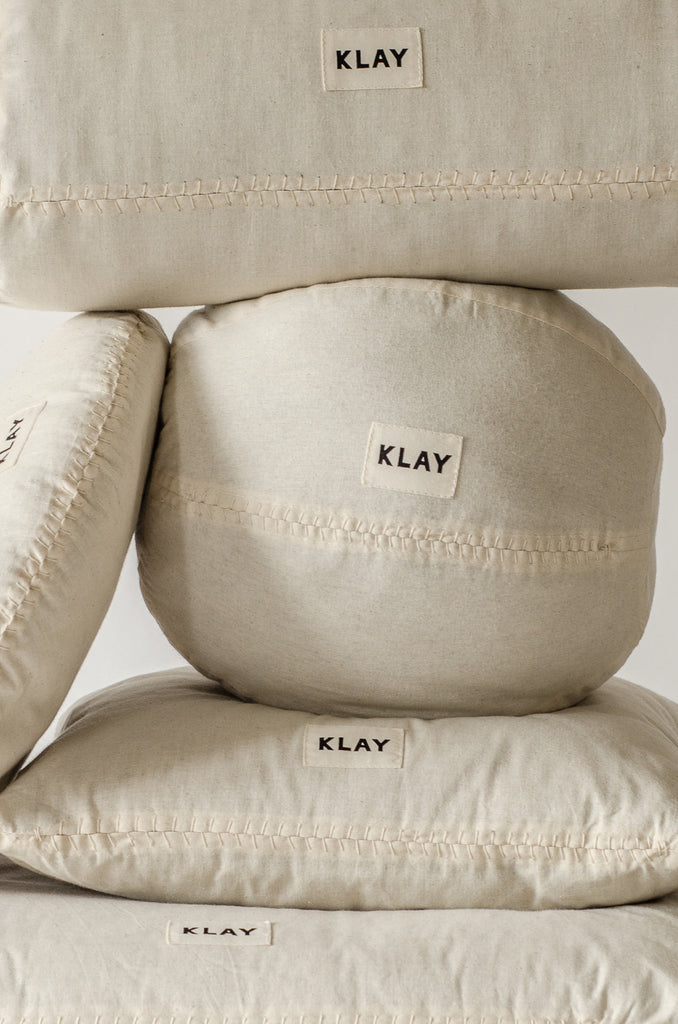 04/27/22
KLAY is a homeware and clothing label based in Auckland, New Zealand run by mother-daughter team Kirsty & Hannah. Their cushions are meticulously hand made using high quality materials and traditional craft techniques, and have been a favorite at TPE for many years. In celebration of Mother's Day, we asked them to tell us about how creating together has been a part of their relationship, both within and outside of the walls of KLAY. 
Can you tell us a bit about how Klay came to be ? 

Hannah: Klay is a life-long project of mums, she's always made homewares and clothes for us, friends and family. She designs and develops (and still makes a lot of things), so I am more there to support that and help her with the website and admin/ computer stuff and be a soundboard to develop ideas and get her creations into the world!
It has been 5 years now since we formalized and started selling mums designs under the name Klay online. Before I was born she had her own shop on High St in central Auckland selling her designs – they were so good! Lots of hand dyed, screen printed, patched textiles and hand knitted oversized clothing. The colours were amazing. But when she became a single mum, to support us, she worked sewing and making in art and costume departments in the film industry, so her own creative projects had to become a weekend hobby.
I think this was a big reason I wanted to help her get to a place where designing and creating her own special work could be her full time job again. So in 2016 I helped her make a website. Now Klay is her full time job (again after three decades).
For the first couple of years after we made the Klay website I was working in India as an architect, so I would help with admin stuff from afar, mum and I would be in contact a lot about Klay day-to-day things using WhatsApp. When I moved back to New Zealand a few years ago I was involved more with making in the workroom, but in the past year I have been drifting in and out, as I am working part time on my architecture projects again. 
Even though I am not in the actual workroom much anymore, I am still very involved, we are aiming for mum to take over a lot of the roles I have set up. At the moment it is about 50/50.
Where do you both live ? 

We both live in apartments in central Auckland, within 10 minutes walking distance from each other. Right in between our places is the Klay workshop! We meet in the middle.

Where did you, Kirsty, grow up ?
Kirsty: I grew up in South Auckland, in a 1940's wooden bungalow with typical 1/4 acre suburban section. It backed on to horse paddocks and was on the ridge of an extinct volcanic cone, the centre of which was a bog/lake which we children would explore and play freely for hours.

How do you both influence each others work ? 

Kirsty: Hannah's training in architecture is very useful for bringing a detached critical analysis, in both the fundamentals of good design and sustainability as a business.

Her experience and extra work in finding materials and products that fit with her deeply held political and ethical beliefs of fair treatment of workers and environmental impact guides what we make and sell, along with her constant search for the elegance of practical, well-made items.

Hannah: I am influenced by the integrity of mum's processes of making and designing. It is never just the finished product she is designing, but the process of how that is made. Many of the processes are based on her experience and research of traditional craft construction techniques. There are no shortcuts with her designs. The goal is to make sure things are tactile and practical, like with the cushions we talked a lot about different materials and weights and texture and how changing the process slightly impacts things in multiple ways and that things are made to last a long time.

I think about this a lot with good architecture too. How you can feel that level of craft and care in beautiful spaces and buildings, where you can feel makers and designers hands that have shaped it. Sometimes we are unaware of why somethings feel special and I think that a lot of the time you can feel the love that has been put into things.

Mum and I also both enjoy making do and re-using materials. The inners of our cushions are made from layers of recycled wool flocking, felts and waddings, that we shape and hand truss together, with the final hand trussing layer that is exposed (if you open the zip you will see it!). In my architecture projects, we often try to re-use what we can find on the site, or from salvage yards or use earth and rubble as part of the buildings. This process and consideration for making-do usually leaves traces of handmade processes in the building, like the finger and hand prints on mud walls or the unique ways that salvaged tiles are placed together. It forms the atmosphere and feeling in the space and I think makes people feel connected.

I believe it is the same for objects.

Growing up, was creating together something that you did often ? In what ways and forms ? 

Hannah: Mum has made me clothes (and toys) since I was a baby. As I got older I became more involved in the design process of designing clothes (and dolls clothes!) for myself. Even at a very young age I remember going to fabric stores and second-hand shops and choosing fabrics together. Mum's workrooms used to be in our house growing up, and when she would be making something I would always hangout in the workroom together, helping with little things like putting pins in or hanging her scissors, or just be there chatting for hours.

I grew up with mum making all my clothes. When I was really little mum used to hand dye things and hand screen print fabrics too, then make them into very cool baggy layered kids clothes, with beautiful details like marbled handmade buttons she made from fimo and hand embroider characters onto clothes. I wish I still had them! When I was young, I used to want mass-produced branded things, and be "normal" like the other kids!

But, obviously now I am so grateful to have grown up wearing beautiful handmade things we made together.

What is an early memory for Kirsty, of creating with your mom ? 

Kirsty: An early memory for me is my mother teaching me to sew on her much used brown and cream Singer Sewing Machine on Saturday morning. She was very methodical about the basics but there was nothing too ambitious for her to encourage me to tackle. She passed her enjoyment of sewing to me and the need to be super-fast as I had seven siblings and Mum worked full time as a teacher, so time together was precious.

Is there an item that the other has created, that has become a special item in your life? 

Kirsty: Not so much an item but my recent purchase of simple second hand furniture chosen by Hannah for my apartment. She helped me decide the best layout for arranging my space. It is a 1930's Spanish mission style building with high ceilings and dappled light and every time I enter I smile at how wonderful it is to live here.
Hannah: I have a duvet cover that mum made for me about 15 years ago that I really love. It is patched from different off white cotton fabrics she had left over from projects in her workroom. It is finished with flat felled seams and closes with ties and random buttons she had at the time. When she finished making it I hand dyed it a pale blue, which has totally faded away now after so much use. I sometimes forget it was blue for a while. I love the way the texture has broken in with so much use.
This well-loved piece has inspired us to make a patched cotton duvet cover for Klay... coming soon!